News
Spiritual Care Week
2017-10-22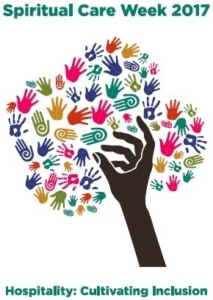 The Giveaways
The Booth Centre celebrated Spiritual Care Week by inviting shelter guests and program participants to come into the OBC's chapel for coffee and snacks. Guests were also invited to fill their knapsacks with giveaway items set out on tables.

These items, all new, included hats, gloves, t-shirts, socks, soap, shampoo and many other practical items; as well as encouragement literature, pens and notebooks. The event was well received and most appreciated.
The Givers
Uchennah, the Booth Centre chaplain; and Kathryn, the courthouse chaplain, had the joyous task of offering hospitality to their guests. Among all the items given out that day, the chaplain's welcoming smiles were the most appreciated.